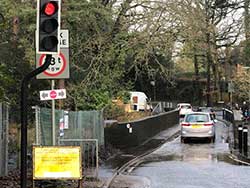 Closure of railway bridge in Hook Heath Avenue
For a long time we have all seen the drainage problems with the road over this bridge. The road was closed on the 8th Feb for extensive British Rail drainage work which will run until 5th April. Apparently water from the road runs onto rail land. Much of the work is to stabilize the rail bank and provide a route for the water to run through a culvert under the railway.

See latest report. Dial 999 if you see any suspicious behaviour.
-----------
The webmaster can be contacted on the following email address. Please retype it, as the electronic link has been removed to reduce spam.
webmaster@hhra.co.uk